Custom Plastic Injection Molded Automotive Products
Reliable, Experienced Partner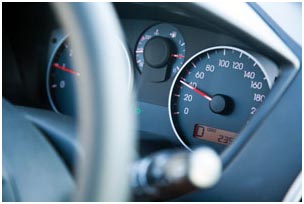 Krauss Plastics is a supplier partnering with automotive suppliers in North America, for Tier 2 OEM suppliers.
Krauss Plastics provides lean manufacturing, world-class quality, 100% on-time delivery, and cost-effective parts. This expertise in custom plastic injection molding of tight tolerances, complex geometries in engineering resins, has been developed by Krauss Plastics for over 47 years of meeting the complex challenges of automotive applications. All of the high quality functional and decorative plastic parts applications, produced by KP conform to the demanding automotive customer design demands and developmental schedules. Do you have an upcoming project for a plastic vehicle part?
Whether it's a control module housing or decorative lens, talk to an expert at Krauss Plastics about your application. We'll focus on the details and make your job easier.
Consistent Quality, On Time, and on Budget- Doing "Whatever it Takes"
For every automotive injection molding project at Krauss Plastics
Design is optimized for quality, mold ability and manufacturability according to customer specified objectives and cost requirements.
Quality standards; ISO 9001:2008, environmental standard are adhered to for repeatable and reliable quality.
Parts and components are developed to meet all quality standards according to the production product approval process- Level three PPAP submission included at no extra cost.
Efficient production processes ensure total commitment to no less than 100% on-time deliveries, whether JIT scheduling or other demand-pull replenishment options utilizing Krauss Plastics EDI capabilities.
Plastic Automotive Components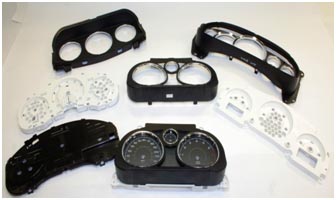 Krauss Plastics manufactures plastic injection molded automotive components with many types and grades of plastic resins. Functional "under-the-hood" components are molded from engineering resins, such as ABS, Nylon, PET, PPO, and a variety of talc and glass filled materials. Class A decorative parts, such as instrument lenses and bezels, are made from materials including acrylic and polycarbonate resins. Clear lens parts are developed with specific lighting and inspection techniques for optimum clarity
Secondary Operations
Krauss Plastics is well equipped and experienced in secondary operations, such as sonic and vibration welding, hot stamping and pad printing. Whenever possible these processes are done at the molding press to eliminate excessive labor costs. In addition, Krauss Plastics has production expertise with in-molded decorative labels which are inserted in the product with a variety of methods, depending on application and customer preference.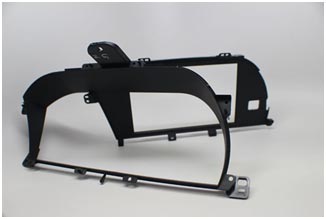 Krauss Plastics manufactures a variety of vehicle components:
Instrument clusters components
Instrument TPE bumpers
Console components
Armrest components
Automotive gas caps
Automotive rad caps
Trim panel clips
Prototyping
For initial analysis of a design and its manufacturability, many automotive customers rely on Krauss Plastics for design and development services. Samples are provided to customers at no-charge in the course of development of a new product.
Financial Stability
In today's marketplace, many automotive companies have struggled to remain solvent. At Krauss Plastics our strong balance sheet, highlighted by no debt, reflects the years of sound financial management and consistent profitability. Currently, all capital expenditures at Krauss Plastics are financed by internally generated funds.